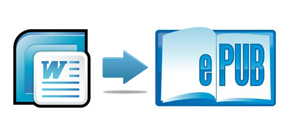 Convert Microsoft doc to ePub
Microsoft Word is possibly the most popular word processor in the world.  With the widespread use of the program, many authors tend to favor Microsoft Word for writing their books. Because of this, we specialize in converting Microsoft Word to ePub format. It's important to get a good company to do the conversion for you as this process can be a little tricky.
With the increasing demand for ePub formatting in the last year, this conversion itself is getting more and more in demand. Our clients have files of all sizes, subjects, and layouts for us to convert. We are capable of doing modifications and updates to your file as needed.
When going through the conversion process, we will ask you to contact us and send us the finalized file of your document to Bob@itglobalsolution.com. We will assess the word document and give you a quote for the conversion costs. The quote will also contain a delivery date for the finished project and any possible restrictions or issues that we predict may arise in the completion of your conversion. After we receive your payment for the conversion process, we will convert your document and send it to you. From there, you can send us a list of updates or fixes for your document in a single email. We ask that you send it to us in a single communication. We are happy to make changes to the document until you are pleased with the final project. If changes are due to conversion errors, we fix them free of cost. If you need changes to your file which are not due to conversion then there will be a cost associated with it.
We are happy to take submissions of manuscripts up to 35 MB via email. If the word document file is larger than that, we will make arrangements with you so that you can upload your file to one of our servers. We are happy to convert Microsoft Word files for authors, publishers, and copyright owners. If the particular book you are having converted is no longer copyright protected, please submit the full publication details with the file.
Please contact Bob at Bob@itglobalsolution.com or call the Supremus Group at (515) 865-4591 to get a quote on Word to ePUB ebook conversion.
Testimonials: –
I must state the services that IT Global Solutions offers are excellent. I am a first-time author and retained their services to compile my book for Mobipocket, which is the ebook division of Amazon. To begin with, Bob answered the phone on the first call. He was not only courteous but he was an expert on the products and services he offered and was able to quote an honest price immediately. He was also acceptable to various payment methods which made it easy for the buyer. He told me what he needed to do the job and the exact timeframe for delivery. He turned around my requirement within a day or two, and ahead of schedule. The quality of his work was superb, and I would recommend him for any of the services he promotes for his business.
THANKS
CHRIS VAN DERVEER
FUTURE WORLD PUBLICATIONS