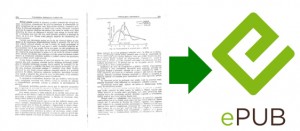 Many authors, writers, and artists refrain from converting their books to an electronic reader format as they consider written words to be more precious. However, it has become essential to modernize these days as eBook sales are beating new records each day. Devices such as Amazon's Kindle, Barnes & Noble's Nook reader, or Apple's iPad, have become the front runners for ebooks now and most likely in the future. Therefore, for authors or publishers, converting their printed books or scanning the book into a globally accepted ebook reading format such as ePub is crucial. If your eBook is just in the scanned format and not in an eBook compatible format, an electronic reader would face difficulty as the file would be in bitmap images. It is difficult to rescale individual text areas so it becomes difficult to read. Ebook readers don't allow scanned files to be sold through their network as it does not meet the ebook guidelines. Converting your scanned book into ePub format can solve these problems.
At IT Global Solution, we have helped several authors and publishers convert their Scan to ePub eBook formats. The best quality conversions at the lowest costs are our hallmark. We can help you convert books from any format, whether it is a word, scanned document, PDF, HTML, InDesign, or quark to ePub format.
Scan to ePub conversion procedure:
Email us the final unprotected scanned PDF book file at Bob@itglobalsolution.com
We will review the file and our team of experts will review it. After deciding the total cost and the time required for conversion, we will inform you about the same.
Once you make the payment, we will begin with the conversion procedure from scanned book to MS Word format.
We will send the Word file to you to proofread and note any changes you want to make to the text. After you send us your final version of the Word file, we will convert that to ePub format.
A thorough quality check will be undertaken by our team of experts once the conversion to the ePub format is completed.
Again, we will email you the ePub format file for your review. If you want to update the file or want more changes, email back the file with the list of updates.
Once you are satisfied with the conversion, you can upload the ePub file into your publisher account. We will email you the final source file which you should save for future edits. There is no need to submit the source file to anybody.
If you have any doubts, call us anytime and speak to us directly. You can call Bob at Supremus Group at (515) 865-4591.
Immediate steps required:
Kindly email us your scanned book at Bob@itglobalsolution.com
We can receive books up to 15 MB. If the size of the scanned book is larger, then you can upload it to our FTP server or send it through the free service of www.yousendit.com. Please contact us for the login ID and password of the FTP
We provide Scan to ePub conversion services for authors, publishers, and copyright owners only. If the book is no longer copyright protected, please provide us with the full publication details.
To know more about Scan to ePub conversion services, feel free to call Bob at Supremus Group at (515) 865-4591 or email your query at Bob@itglobalsolution.com