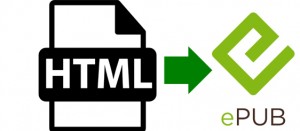 If you are a publisher wanting to make your HTML eBooks readable on a digital device, then convert HTML to ePub format. Electronic Publication (ePub) is a globally accepted ebook reading format compatible with Apple's iPad, Barnes & Noble's Nook, the Sony reader, Google Books, and Kobo reader. It is possible to convert any text document including HTML to ePub format. As a publisher or author, you have a number of options to choose from when it comes to the format for digital publication. A number of eBook formats are available and each has its own proponents. ePub is a widely used format mainly because it is an open standard created by the International Digital Publishing Forum. The popularity of the ePub format has soared drastically in recent years and currently is the most widely used eBook format. Except for Amazon's Kindle, the ePub format is supported by other notable electronic reading devices. However, there are speculations that soon even the Kindle would support this format.
IT Global Solution: Your ePub conversion partner
IT Global Solution, operating in the arena for over 5 years, offers good quality ePub conversion services at the lowest cost. Apart from ePub conversion services, we also provide outstanding eBook conversion services to Kindle, Mobipocket, and ePub format. Quality services at affordable costs are our hallmarks, so we guarantee to maintain 99% of the formatting. Conversion from one format to an eBook compatible format takes place under the guidance of our experts. We follow a manual process versus an automated program. This is the reason our conversion services are more accurate with fewer errors when compared to other service providers operating in the domain.
Convert HTML to ePub:
The conversion of your eBook from HTML to ePub format will not only give you a chance to distribute your books globally but will also open new streams of revenue. The conversion process followed by us is described below:
Mail us your final HTML file to Bob@itglobalsolution.com
Our highly proficient team of experts will go through the HTML file and let you know:

The total cost to convert HTML to ePub format
The time required for conversion from HTML to ePub

Once you give a green signal to our proposal and pay the required amount, we will start the conversion.
Following through a quality check, we will email you the ePub format file for your review.
You will get time to analyze the file. Note any changes that you may want or any corrections required.
We will do the needful changes and send you the final file, but only when you are 100% satisfied with the outcome.
You can upload the final ePub format file onto your publisher account so it is available for sale.
If you have any doubts, please feel free to call Bob at Supremus Group at (515) 865-4591.
Action time:
Send us your unprotected HTML file to Bob@itglobalsolution.com
We can receive books up to 15 MB. If the size of your HTML file is larger, upload it on our FTP (File transfer protocol) server or otherwise send it through the free service of www.yousendit.com. Please contact us for the login ID and password of FTP.
We provide conversion services for authors, publishers, and copyright owners only. If the book is no longer copyright protected, please provide us with full publication details.
If you want to know more about HTML to ePub conversion services: